Sponsors - Warrior Nation
Our mission as Warrior Nation is to celebrate, preserve, promote and produce an environment that inspires athletes, students, players, coaches, parents and the community to collectively create a positive, electrifying atmosphere for the Gettysburg Football Program. Our mission will be accomplished by stirring a spirit of competition, building of traditions, honoring rivalries, and creating opportunities for the team and its members to be publicly recognized and positively identified as valuable resources of our community. With an emphasis on academics as well as physical and mental strength, our goal is to sustain an organization that will preserve programs through social exchange, community involvement, and honest fiscal responsibility.
Stadium Banners
Support your warriors and advertise you business all at the same time. Advertising banners around the stadium are avaliable for purchase. They are $210.00 for a 3x8 banner, hung at the stadium for the season. A renewal fee of $100 each year thereafter. If your interested please contact us at: deb@superpa.net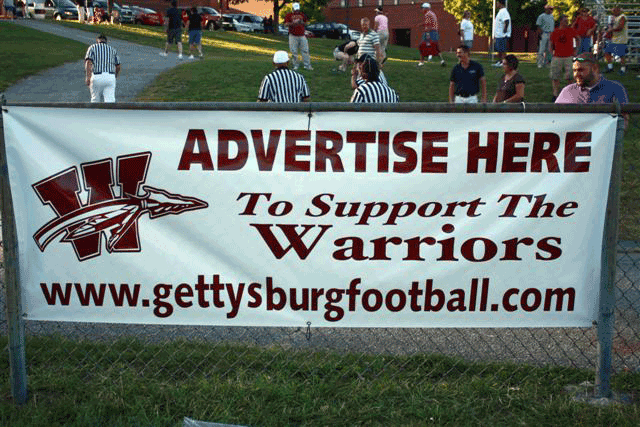 2010 Sponsors
Warrior Nation would like to thank all of our sponsors and strongly encourage all fans, parents, students, and community members to use the services of the following businesses:

* Town & Campus
* Tommy's Pizza
* Len Dick Signs
* At&t All Wireless
* Rarrick Orthodontics
* Weitco Stair Products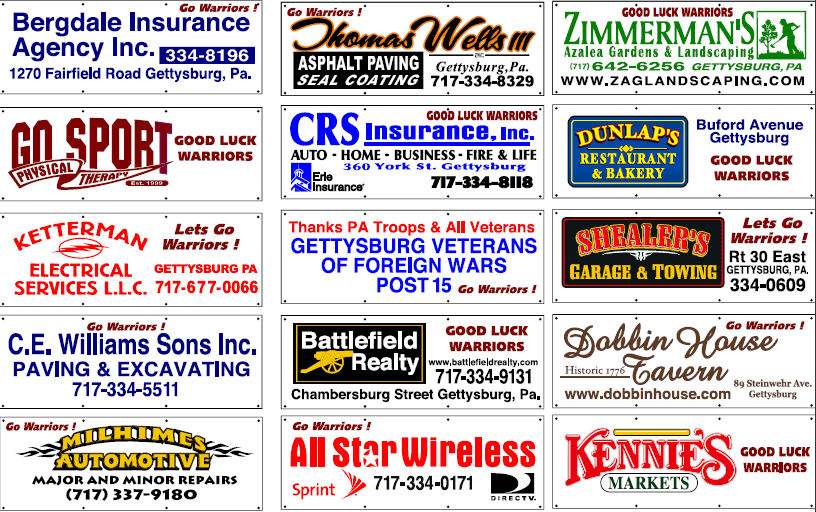 Your Support
The allotted athletic budget provided to the Gettysburg Football program by GHS is used to purchase protective and safety equipment for the team and cover some basic expenses. However, additional financial support enables the program to provide upgraded, top of the line equipment for each of the well over 200 young men participating in the program. With additional support the football team and coaches are able to purchase everyday essentials that contribute to a successful program, including:

* Premium weight room equipment
* More coaches
* State of the art off-season training equipment
* Travel expenses
* General supplies, playbooks, etc
* Other essential clothing and game day apparel
* Hardware and software needs


Warrior Nation provides this support to the Football program through fund raising and donations. By supporting Gettysburg Football with your involvement, purchasing merchandise from the Spirit Shop, advertising in the program, or making a donation you are helping to keep the Gettysburg Football Program strong.
If you would like to donate to the program or support us in anyway please email: deb@superpa.net